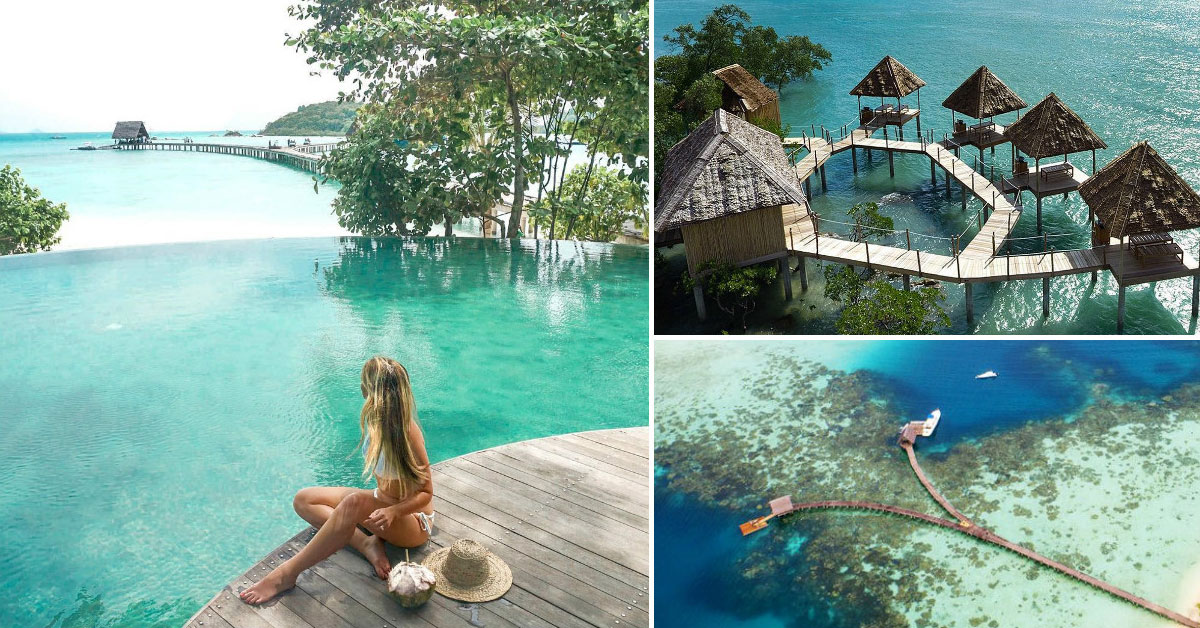 Riau Islands Province in Sumatra has three biggest and most populated islands. Batam, Bintan, and Karimun. The capital city of Riau Islands is Tanjung Pinang, located in the biggest island, Bintan.
Bintan was the heart of ancient Melayu Kingdom. Nowadays, Bintan is the center of economic activity in Riau Islands. Riau Isalnds can be reached from Singapore less then one hour by feri boat. Both Batam and Bintan has international airport and harbor.
Riau Islands is blessed with beautiful destinations, beaches so beautiful, diving and snorkeling spots, waterfall, and many more. If you visit Riau Islands, be ready to eat a lot of fresh and delicious seafoods. Beside Anambas Islands, which is the most beautiful tropical island in Asia, Riau Islands also has Batam Island and Bintan Island to amaze you.
Batam Island
Batam Island is one of the biggest island in Riau Islands. One of the iconic destination of Batam is Barelang Bridge. Barelang Bridge connecting Batam, Rempang, Galang, Tonton, Nipah, Setoko, and Galang Baru Island. The Barelang Bridge has length of meters. Standing on this bridge, you can see blue sea around, the islands, and fishermen who were fishing.
Near Batam there are smaller island called Abang Island. It is a great snorkeling spot for it's amaing underwater garden, featuring coral reefs, various sea creatures, under the chrystal clear water. COREMAP (Coral Reef Rehabilitation and Management Programs) itself has also designated area as site for a special underwater coral reef observation center.
There are three locations that you must visit when you make a trip to Abang Island. They are Abang Island (Pulau Abang besar), Ranuh Island, and Pengalap Island. To reach these spots you can take fast boats from Galang Baru Island. The main activities here are obviously diving and snorkeling.
See the beauty of world that lies beyond the surface with all the colourful sea creatures and some of the rarest coral reefs. There are 9 dive sites in the area. And all of them are relatively safe since aside from being surrounded by small islands. They also do not directly face open ocean.
Abang Island is located south from Batam or about 50 km from Muka-Kuning, Batam Island. To reach the island, it takes approximately 1,5 hours drive from Batam to the Barelang Bridge. From there, the journey continues by boat along the River Burdus until you reach Abang Island. Which is about 12 km away using motorized boats, Pompong.
Another interesting place to visit is Water Park Ocarina. Mega Wisata Ocarina offers various activities, water sports, garden park, abd beach. All in one location. It can be reached in 15 minutes from Hang Nadim International Airport, Batam.
It has 30 meters ferris wheel, and you can see great view from top of it. There are also jet ski rental, water bikes, 3D Cinema, go-kart circuit, and children's playground. Admission fee : 5.000 IDR /car, 2.000 IDR /motorbike.
Bintan Island Area
Bintan is chosen to be island of resort and vacation because it has beautiful and calm beaches. Tanjung Pinang, the capital city of Riau Islands, is located in this island. Northern side of Bintan, at Lagoi are to be precise, is where the high class facilities located. Bintan Resort (Lagoi Integrated Exclusive Tourism Area) is a jet set style vacation spot with bars, exclusive spa, and high class golf court.
Other than Bintan Resort, Bintan also have cheaper option for us budget concious traveller. We can find cottage managed by local residents in Trikora beach for example. It is one of Bintan most popular tourist attraction. The beach located about 45 km east of Tanjung Pinang city. It coastline streches until 25 km, the longest in Riau Islands.
There are nice place to rest, beaches managed by local residents, usually equipped with gazebo or huts made of wood. Along Trikora coastline, the view is superb. It's all white sand beach, water so clear, and rows of coconut trees, some location covered with boulders in various forms toward the middle of the sea.
A lot of attraction Bintan that you can visit, such as Tanjung Berakit beach, Bintan Leisure Park, Gunung Bintan Waterfall, Gunung Bintan Cave, and also smaller islands around Bintan.
If you like snorkeling, the beautiful underwater scenery in Mapur water, Bintan, will take your breath away. This prestine uninhabited island has white sandy beaches, clear water, and excellent coral reefs for snorkeling. For fishing lovers can join Mapur Fishing Festival held on June every year. Mapur is well known to the diving fraternity. It is the biggest 'offshore' island in the Bintan group.
To get Bintan, you can catch a flight from Jakarta to Tanjung Pinang. If you from Batam, there are two ways you can choose. First by ship (KM Roro) operated from 07.00 – 18.00 WIB from Telaga Punggur Port, Batam to Tanjunng Uban Port, Bintan for only 15.000 IDR. Second you can go by feri, which are faster but more expensive. The feri will drop you off at Sri Bintan Pura Port, Bintan.